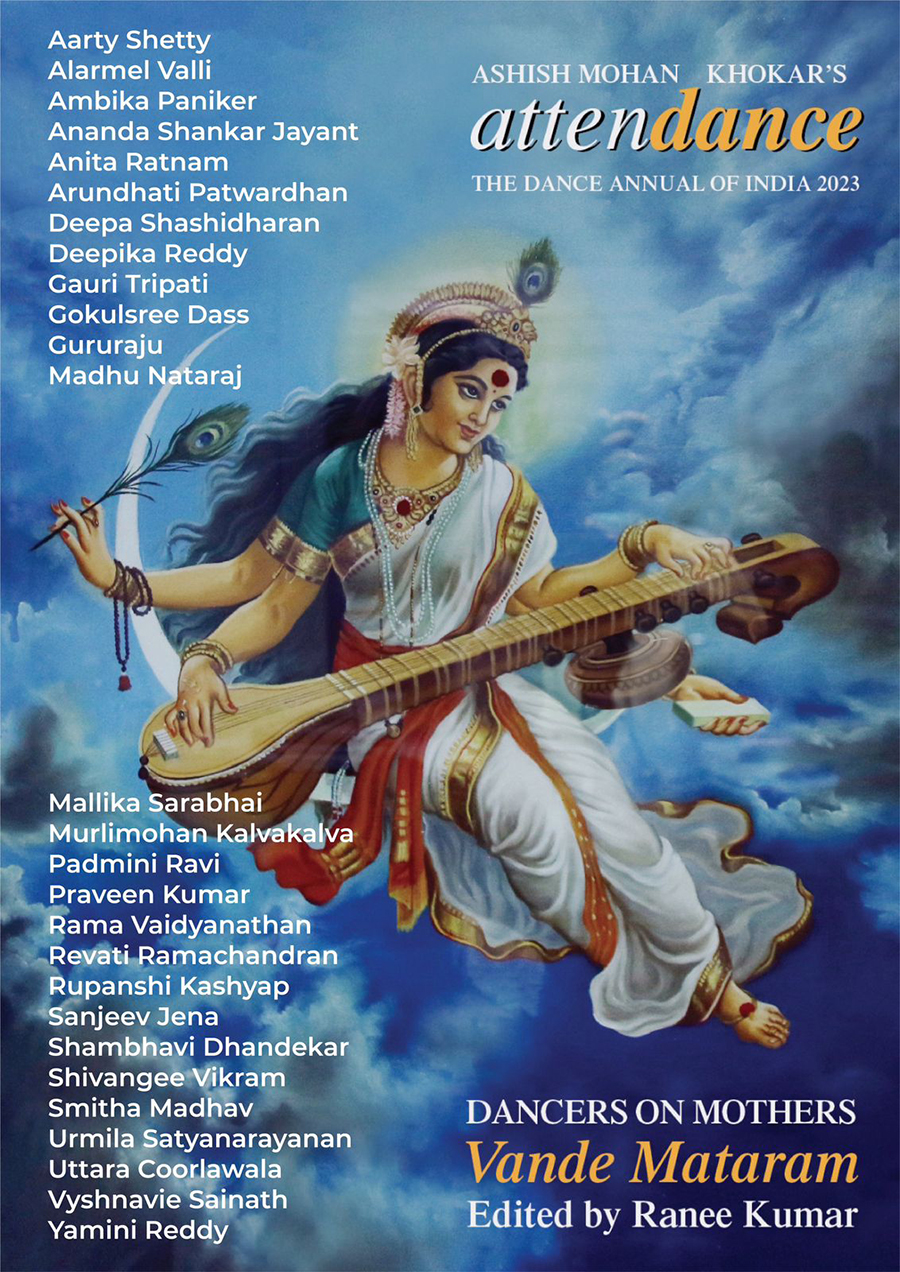 attendance 2023 issue is a Mother's Spcl. Those dear and respected ones who shaped many a top talent in dance of India. The list is limited to those with minimum two decades of work on professional stage and above. Some youngsters too are included, who are exceptional and started early.
We have known and seen the lifelong work of Alarmel Valli, Anita Ratnam, Kiran Segal, Veena Murthy Vijay, Mallika Sarabhai, Padmini Ravi and others who are all stars and seniors. We also platform next generation that's teaching and reaching out. The Arundhati Patwardhans, Ambika Panikers, Ananda Shankars, Madhu Natarajs, Praveen Kumars and Sanjeev Das. 
attendance is India's only year-book on dance. It covers a year (1st Jan-31st Dec) in perspective and gives perspectives on issues, events, exhibitions, shows, seminars, books, biographies and obits. Edited, compiled and published by Ashish Mohan Khokar, top writers and critics of dance contribute in-depth articles. Metros are covered, as also major dance centers abroad.
Hardbound edition/ Dustjacket/ Art-paper, A4 size, colour, with over 100 archival photos, it is printed by ace art-printers PRINTWAYS and costs less than a price of family-sized pizza* (inclusive of first-rate postage charges). This annual stays on the shelf the whole year round. Buy one to know it firsthand!
"The bible of Indian dance" says India Today; "attendance is compulsory" says The Times of India. You get a copy and decide for yourself !
attendance2021-22 features Dance & Mysticism. What does that mean in context of Indian dance? Historically, mythologically and practically, so a yesterday, today and tomorrow type focus.
Iconic names like Dr. Padma Subrahmanyam, Dr.Bharat Gupt, Dr Choodamani and younger dancers like Aniruddh Bala Knight, Rani Khannum, Mandakini Trivedi con- tribute their thought. Senior critics Tapoti Chaudhary, Ashish Khokar and Dr. Sharada Shrinivasan decorate the pages while ace journo and arts- writer Ranee Kumar guest edits.
Dr. Karan Singh's Foreword with Aman Nath's guest note enhance the year book, that's a bench mark in Indian dance discourse and academics.
Plus usual round-ups, obits, books. Book your copy - khokar1960@gmail.com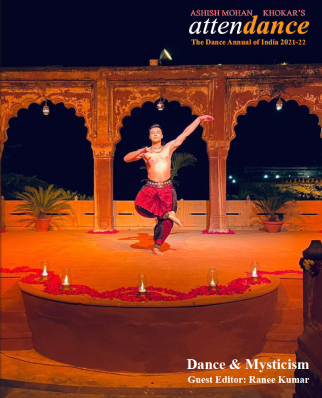 attendance turns 20 years old. On turning 20, we take stock of how dance activity has changed in metro India. How dance is viewed in society. How dance is positioned in Indian cultural landscape. How dance heals and helps individuals.
The 20th anniversary issue also undertakes an assessment of our awardees. How attenDance award has made a difference to them and their careers. How it has challenged them. What progress they have made.
The cover story is on BIFAC (Bharatamuni-IIangovan Foundation for Asian Cultures) and Dr. Padma Subrahmanyam's monumental contribution. The issue also profiles Dr.Sonal Mansingh life and times as she turns 75. The issue also focusses on IGNCA as an institution and MKDC (Mohan Khokar Dance Collection) donated to it as a national treasure.
As always, we take unusual but important subject like focus on centenary of legendary Nabendu Ghosh, the scriptwriter, actor and how dance came to him. We take note of work of Annette Leday, the French Kathakali dancer-choreographer. We platform trends, books, even obits. All in all, a sumptuous 130 pages of dance news, views and more.
Get a copy today before stocks finish! And they do quickly every year. How to get a copy? Click on links to CONTACTS in each city. Enjoy!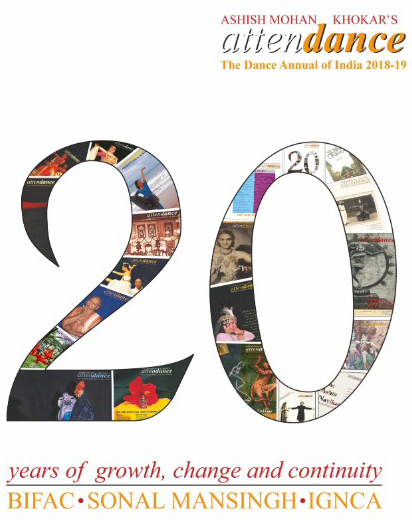 On the occasion of first illustrated talk on MOHAN KHOKAR DANCE COLLECTION at IGNCA on 14th Feb, a grand function was held where top dancers and gurus gathered to hear Editor of attendance that was given to all. Dr. Sonal Mansingh was the chief guest with gurus Saroja Vaidyanathan, Shovana Narayan, Bharati Sivaji, Kiran Segal, Ranjana Gaur, Rama Vaidyanathan, Ambika Panikar and many others participated. Dr. S Joshi Member Secretary of IGNCA and Dr Ramesh Gaur hosted the grand evening. A rare film made by Ashish Khokar was shown after which panelists Pankaj Saxena and Alka Raghuvanshi enlightened all with expert comments.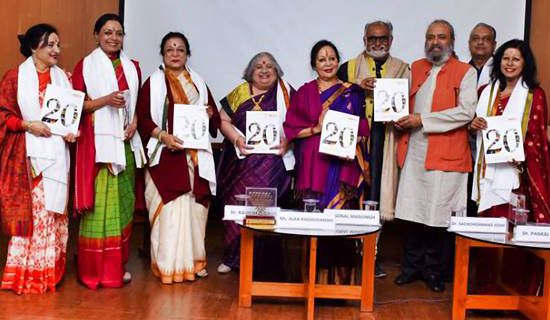 attendance addresses major issues in the Indian dance field and has contributed significantly to our understanding and comprehension. This issue is no different and takes up a very important topic: the Guru Shishya Paramapara, a corner stone of Indian traditional arts and learning. Master to disciple. What are its joys and challenges today; what it meant in past, who are main proponents. Major dance gurus like Yamini Krishnamurthy, Birju Maharaj, the Dhanajayans, Padma Subrahmanyam, Aloka Panikar, Radha Shridhar, Raja Radha Reddy, Saroja Vaidyanathan speak up and also next generation dancers-teachers like Shovana Narain, Geeta Chandran, Priya Govind, Ananda Shankar Jayant, Parwati Dutta, Madhu Nataraj and many more share their youthful teaching experiences in each city. Universities and special institutions of learning may form a pool too.
From East India, senior-most critic Dr.Tapati Chowdhurie reports on transformations taking place in Bengal and Manipur. From West, based in Mumbai writes dancer-choreographer Daksha Mashruwalah. From Delhi the capital city writes reputed arts writer Purnima Sharma, who has interviewed all styles and generations. From south, the Editor himself takes up a platforming of major learning points in Chennai and Bangalore and Kerala. Pune and Pondi, both get covered. From overseas, Dr. Putanjani Purgus scapes the Mauritian culture-scape and from France, Vidya. USA there are too many teachers and no real gurus left, so it is a free for all. Australia based Monica Singh's experiment in teaching dances there dovetails with similar ones in Malaysia. All in all, the first-ever compilation of study of this age-old paramapara now facing metamorphosis. And how! ORDER YOUR COPY NOW. Every year stocks finish early, within weeks of release, as "attendance is compulsory" noted the Times of India, 1999, when it started.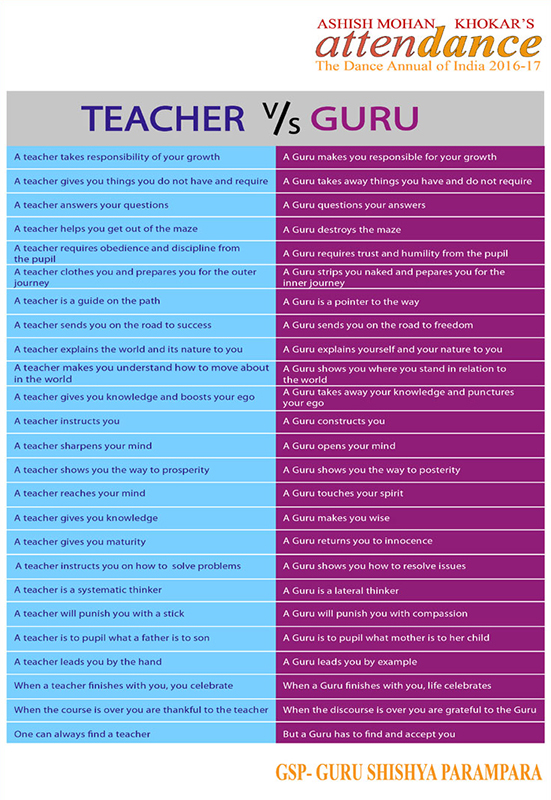 The 18th anniversary issue of India's only yearbook on dance - attendance - is a journey of how our costumes evolved and changed, in major forms. What are the reasons and the need? It answers debatable questions like "who first thought of the Bharatanatyam tunic costume with front fan look". Or who did away with the temple look of Kathak and made it sanitised, dull and colourless? How textiles played a part and tailors! Why some forms like Kathakali aharya have truly stood the test of time and others have taken flagrant liberties with the aharya of the form, like say in Kuchipudi. 100 rare photos from Mohan khokar Collection, some never seen before (like the cover of Prince Yog Sunder of Gujarat, who learnt Kathakali inspired by Ram Gopals example) also tell how dance was documented. Not the current digital ease and angle of just click 100s and one or two might be good! These photos are by renowned dance documentarians like Sunil Jannah, Mohan Khokar, Shiavax Chavda and younger ones like Ram Rahman, Vinod Sunder and Ashwini Chopra. Not commercial ones who take and sell to dancers or for calendars and brochures, then claim to be saviours of dance heritage! Plus all regular features;2015 overview and benchmarks; 2016 highlights obits, awards, rewards, battles and books . Copies finish quickly. Please book yours in advance by emailing : khokar1960@gmail.com. Bulk orders (5 copies or more) get 20% discount. Students get 10% discount on individual copy.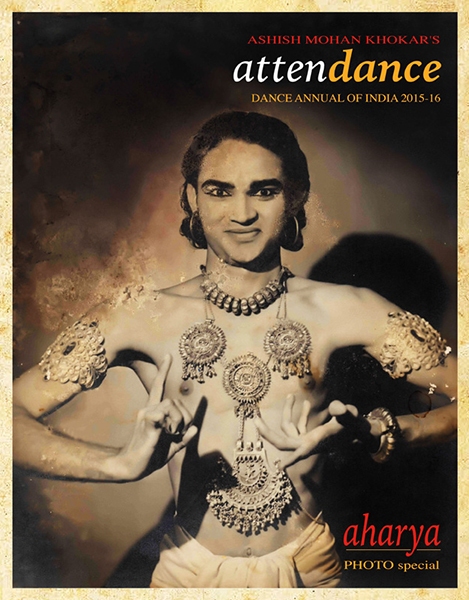 The 2015 issue is to be out on World Dance Day (29th April) . It is a yearbook that contains news, views, reviews and more: Historical data, useful information, book reviews, even obits. Many senior and serious dance writers contribute to make this yearbook - now in its 17th year - meaningful and memorable. It stays on shelf for long; is sought after in every university library list and a must for Ph.D students. Endorsed as role-model journal on dance from India by UNESCO-CID, it is made serious inroads in research and outreach. It retains an old world charm through rare, archival pictures dovetailed with contemporary concerns and contexts. Articles bring alive history and heritage of Indian dance and also its global outreach and impact today. The cover itself explains contents of this issue. A wide eclectic range of topics. "A must read... "said India Today. "attendance is compulsory" said the Times of India. Book your copy now, as each year stocks finish quickly.
email: khokar1960@gmail.com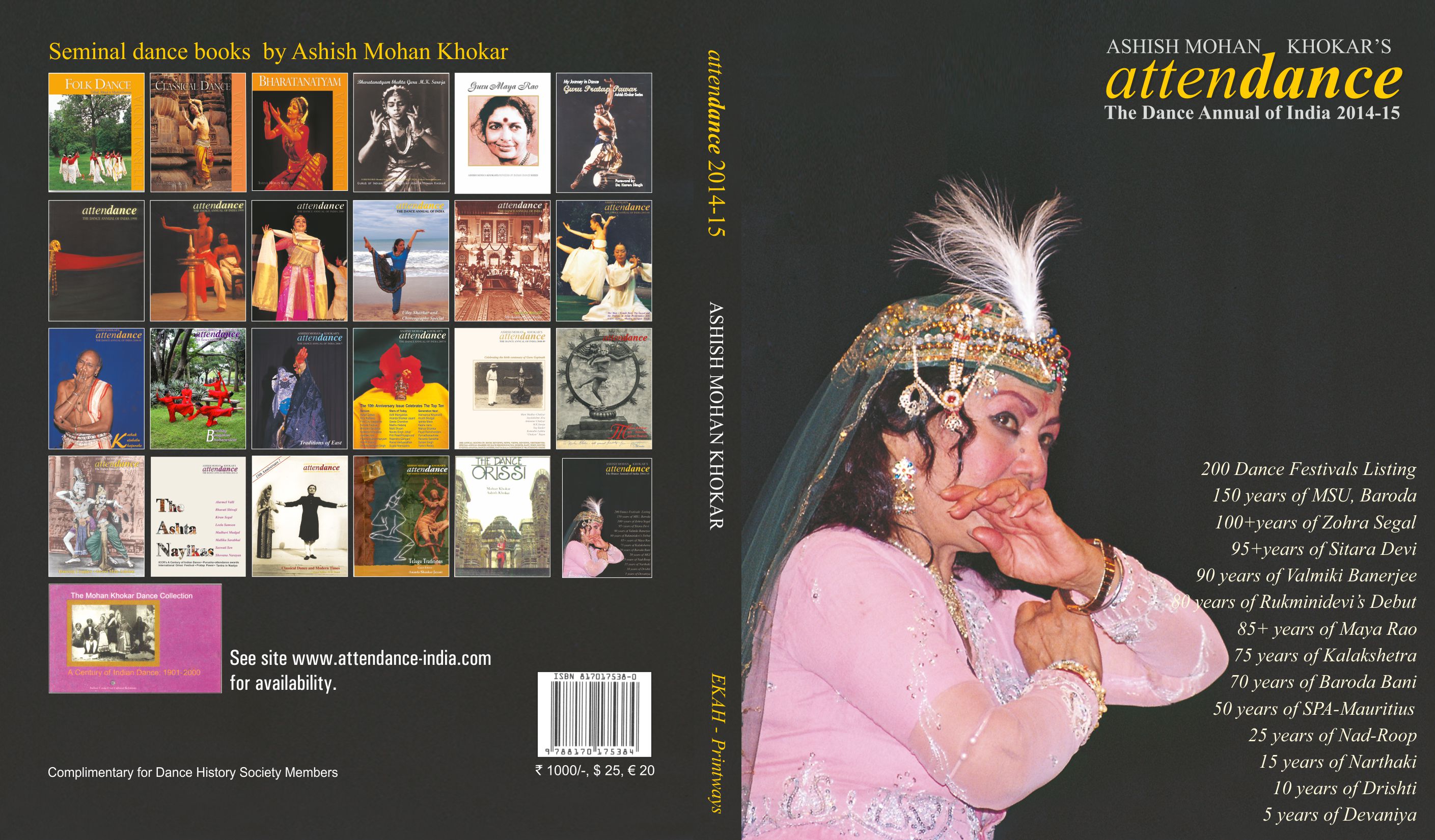 Press review - http://www.thehindu.com/features/friday-review/a-century-of-telugu-dance-traditions/article6245766.ece
The 2014 Issue of attendance - in its 16th year of publication - focusses on the most saucy style among Indian classical dances - Kuchipudi. This style is admired, appreciated, acknowledged by some leading lights of the form in this issue. Its history, heritage and histrionics are platformed in all its facets. 3 generation of gurus and performers, stars and scholars bring to fore many hidden gems to light. Legendary gurus, dancers and writers add lustre to this much performed, but less popularly learnt style from south-eastern coastal region of India. Activist-artiste Dr. Ananda Shankar Jayant, a Padamshri and SNA awardee, who is also a senior bureaucrat of Andhra, guest-edits the compilation. Prof.Pappu Venugopal Rao, Nataraja Ramakrishna's ace disciple Kala Krishna, Vempati guru family and students; Shobha Naidu, Raja Radha Reddy, Ratna Papa, Rajam, Prema, Kamala Reddy, Rajalaskhmi Seth, A.N.Seshan, Manju Bhargavee's students, Vyjayanthi Kashi, Mallika Sarabhai, Anuradha Jonalgadda, Uma Rao, Jayarama Rao, Veenamurthy, Arunima Kumar and many younger upcoming talents like Purvadhansree, Amrita Lahiri, Gururaj, Payal Ramchandani and Yamini Reddy have contributed to make this issue wholesome. Rare materials from the MOHAN KHOKAR DANCE COLLECTION - never seen before - enhance the issue with snippets on Yamini Krishnamurthy, Korada Narasimha Rao, Arudra, Kuchipudi village itself.
BOOK YOUR COPY NOW as stock finish early.
Email: khokar1960@gmail.com to know nearest outlet to your city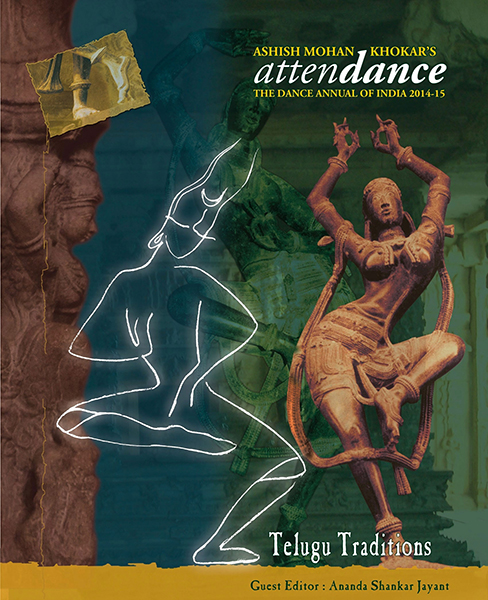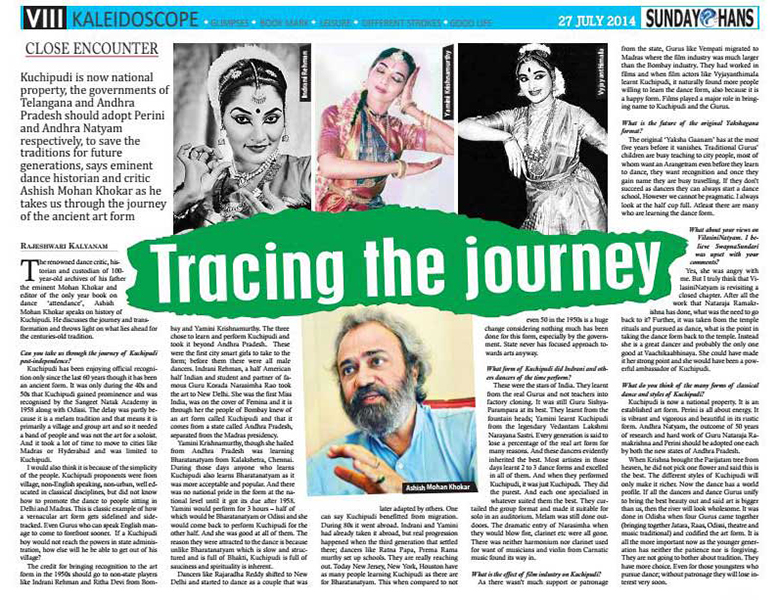 attendance turns 15! 15 years of bringing out India's only yearbook on dance that has served history and heritage. Given news and views. Platformed books, ideas, seminars that have mattered. attendance has been made compulsory in most university libraries worldwide as India's only authoritative yearbook, full of information and factual data. We have helped platform marginalised forms like Chhau or states like Gujarat. We have pushed the boundaries for reviving male solo dancing through Purusha issue and festivals and seminar, now being copied by other cities. Five new only male-specific Purusha dance festivals have started since (Madras, Bhubaneswar, Bombay, Baroda and Bangalore, even Malaysia) since our issue came out few years ago. Gujarat issue brought out ten years was first focus on the State. Traditions of the East brought many languishing forms and traditions of north-east to the fore.
15th anniversary issues has a Guest Editor in Ahmadabad based drama and dance writer S.D.Desai, who has put together this issue, to which numerous long-term associates and writers have contributed on main topic that concerns us today: Classical Dance & Modern Times. See CONTENT PAGE for details of each article. ORDER NOW BEFORE STOCKS FINISH! NOT A SINGLE OLD ISSUE IN STOCK LEFT. Become Member of Dance History Society (click on link above under the Opening Para of Main Page of this Site) and get attendance free!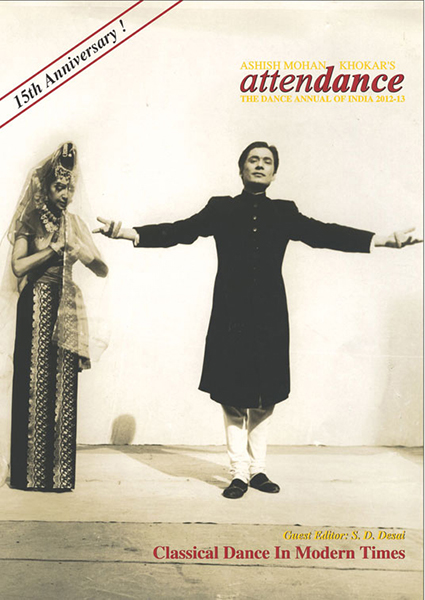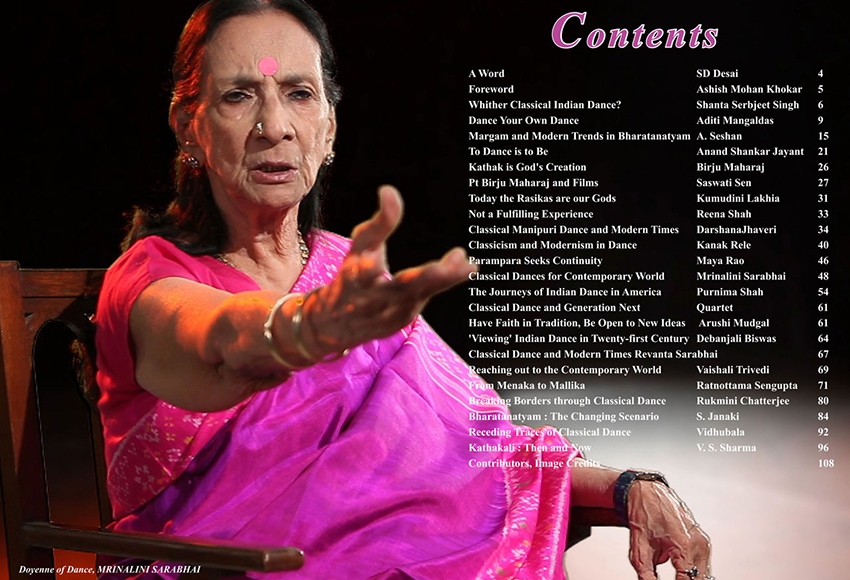 attendance 2012 celebrates 8 women dancers - hence the new Ashtanayikas! - who have distinguished themselves with consummate artistry, sincerity of purpose and commitment of over 40 years, to their muse. They have been selfless in pursuit of excellence in their form and not taken to sensless innovation just to sound and look different. They have ability to do a full margam properly and hence have not resorted to thematic depictions on environment or gender-bender issues, that in any case are part of our traditional and even classical cultural scape (Kalidasa's Meghadootam being a classic example). They have inspired youngsters and motivated audiences. They continue to do meaningful work in contemporary times and are our best ambassadors of art.
Additionally, attendance 2012 contains all regular features: an annual round-up of who did what and where; awards; titles; seminars; books; Ph.Ds; regional coverage through Diaries written by local authorities and alas, obits.